Active Components and Constitutional Formula
Pine bark extract is a concentrate of water-soluble bioflavonoids consisting of procyanidins, catechin, taxifolin and fruit acids in constant and normalized proportions. Because the bark is grown layer by layer over a period of more than 30 years, there are neither seasonal nor annual variations in the composition of its ingredients, in contrast to other herbal extracts. All constituents are potent scavengers of free radicals.
Proanthocyanidins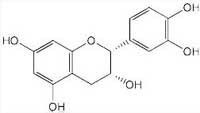 Specification
Proanthocyanidins: 60-95% (UV, Beta-Smith)
Polyphenols: 70-95% ( UV, Folin-Ciocalteau)
OPCs: 30-85% (HPLC)
Monomers: 10-40% (HPLC)
Certificate of Analysis
| | |
| --- | --- |
| ITEMS | SPECIFICATION |
| Appearance | Fine Brownish Powder |
| Odor | Characteristic |
| Taste | Astringent and Bitter |
| Proanthocyanidins | 60-95%, UV(Beta-smith) |
| Polyphenols | 70-95%, UV(Folin-C) |
| ORAC,umol TE/g | >12 000, Brunswick |
| Loss on Drying | ≤5%, 5g / 105℃ / 2hrs |
| Ashes | ≤2%, 2g / 525℃ / 3hrs |
| Bulk Density | 35~55g/100ml, Density meter |
| Partical Size | 100% Through 100 Mesh |
| Extract Solvent | Water & Ethanol |
| Heavy Metals | < 10ppm, Atomic Absorption |
| Lead(Pb) | < 2ppm |
| Arsenic(As) | < 2ppm |
| Cadmium(Cd) | < 0.5ppm |
| Mercury(Hg) | < 0.2ppm |
| Pesticides Residue | Eur. Ph. 2000, Gas Chromatography |
| Total Plate Count | <1000CFU/G |
| Yeast and moulds | <100 CFU/G |
| E.coli | Negative |
| Salmonella | Negative |
E-mail us to get quotation and typical certification of analysis
Indications and Usage
Pine bark extract is a new nutritional supplement used for its antioxidant properties, which are believed to be effective for a wide range of healing and preventative purposes. Antioxidants play a key role of repairing and protecting cells in the body. They help protect against free radicals, which are damaging byproducts of metabolism and exposure to environmental pollutants. Free radical damage is believed to contribute to aging, as well as too severe conditions including heart disease and cancer. Common antioxidants are vitamins A, C, E, and the mineral selenium. Researchers have termed the group of antioxidants found in pine bark extract oligomeric proanthocyanidins, or OPCs for short. OPCs (also referred to as PCOs) are some of the most powerful antioxidants available.

The extract is used to reduce the risk and severity of heart disease, strokes, high cholesterol, and circulation problems. It is used in the nutritional treatment of varicose veins and edema, which is swelling in the body due to fluid retention and leakage of blood vessels. Arthritis and inflammation have also been improved in studies using pine bark extract, as well as the uncomfortable symptoms of PMS and menopause. The OPCs in pine bark extract are recommended for various eye conditions that are caused by blood vessel damage, such as diabetic retinopathy and macular degeneration. Pine bark extract is recommended to improve the health and smoothness of the skin, including damage caused by overexposure to sunlight. Pine bark extract is a supplement used for anti-aging and preventive care as well.


Pine bark extract is available in health food stores as powder and capsules. For prevention and general health, a daily dosage of 50 mg (1–2 capsules) is recommended. Lotions or creams usually contain between 85% and 90% of proanthocyanidins. For treatment of health conditions, the dosage may be increased to 300 mg or more, depending on the advice of a physician and the specific condition. Pine bark extract can be taken either with or between meals.


Pine bark extract has been extensively tested for safety, and no dangerous side effects have been observed with its use. The most frequently reported side effects have been mild gastrointestinal complaints such as nausea or upset stomach.
Package
25kg/drum, double layers plastic bags inside.
Storage Situation
Stored in a cool and dry well-closed container. Keep away from moisture and strong light/heat.